BRAND IDENTITY… IS IT TIME FOR A CHANGE?
2016 is now in full swing. For many people the turning of the year is a chance for a fresh start. We all know the usual new year's resolutions that people make – giving up alcohol or going to the gym – but what changes should a business make?
Is it time to refresh your brand identity? Does your logo need to be tweaked or do you need a complete re-brand?
In the ultra-competitive marketplace within which most businesses now exist, standing out from the crowd has never been more important. We believe that a company's brand identity should be appropriate to the business and it's target audience. It should also be uncomplicated and professional looking.
There are many reasons why it might be the right time for a re-brand. Has your company shifted it's line of business (technology giant Apple was previously known as Apple Computer Inc before they moved towards consumer electronics). Maybe you want to appeal to a different target audience or perhaps the recent success of your company means you have outgrown your existing brand?
We all heard stories of the world's largest companies paying millions of pounds for a new logo, (oil group BP, spent £136m on their current flower design,) but it doesn't have to be that way.
We recently worked with Beehive Hair Design in West Bridgford. The salon was set up in 1996 and employs a highly skilled team of professional stylists. With the successful and popular salon approaching 20 years in business Simon and Abi, the husband and wife team that set up the business, wanted to bring their brand identity up to date. We provided a clean, modern and professional identity that represents the quality of the salon and suits the affluent West Bridgford setting. Following the logo we have designed external and internal signage and look forward to helping develop the Beehive Hair Design brand in the future.
Abi from Beehive said "We have been really impressed with the designs and the level of service that Phase provided. We can't wait to roll out the new branding throughout our business."
Visit our logos and branding portfolio page to see more of our designs.
Whatever your circumstance ask yourself this question; does your brand give the right message? If you think that your company's position in your marketplace could be improved contact Phase to discuss your own brand identity.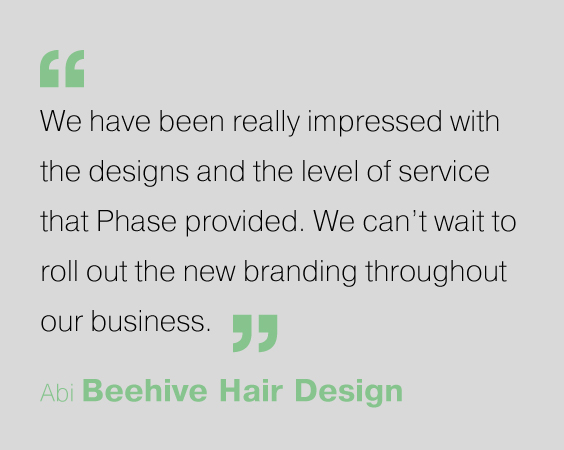 MORE NEWS