DO YOU NEED HELP WITH YOUR NEXT BRANDING OR DESIGN PROJECT?
Our design team can take your project to the next level…
The last few months have been a busy time for the design team at Phase. We have completed a number of projects encompassing branding, literature, catalogues, web design, illustration and exhibition design…
Menus for Derbyshire County Council
We have been designing the seasonal menus for the last four years along with a number of theme day posters to promote healthy school meals. The menus and theme day posters are designed in a child friendly manner, making it easy for the children to understand. The menus include a number of allergy icons used to inform those who suffer from a variety of allergies what ingredients are included in each meal. The design we produced for the 2016 Spring Summer Menu was a finalist in the Graphic Design category at the 2016 Print, Design & Marketing Awards. View the project.
Exhibition Design for Crich Tramway Village
In the spring of 2015 we were asked by Crich Tramway Village to design display graphics for a temporary exhibition – Tramway Tommies & Clippie Girls. The exhibition examined how the outbreak of the First World War affected the tramways of Britain. They were so happy with the design that we provided they asked us to deliver the second in the series of exhibitions – Arms To Armistice – completed in March of this year. The exhibition is now open to the public. View the project.
Strategy Booklet for Girlguiding Nottinghamshire
Girlguiding Nottinghamshire asked us to design their new county strategy document. The booklet had to adhere to the new "Being Our Best" guidelines – Girlguiding's strategy to deliver a bright future to all girls and young women in guiding. View the project.
Branding and Illustration for Open Retail Solutions
Open Retail Solutions have provided Epos Systems to garden centres, farm shops, butchers and delis for over 25 years. As part of a wider branding project they asked us to design a logo and a set of characters that illustrated the various applications that make up the Multi Retail integrated Epos solution. The characters we designed provided a softer, human element to software. View the project.
Catalogues for The Duke Clothing Co.
We have designed a number of seasonal catalogues for The Duke Clothing Co. For each of the catalogues we create an overall design concept that continues throughout the catalogue. For their latest Spring Summer catalogue we focused on the fact that overseas sales now forms a big part of their business. We created a strap line "Designed in the British Isles – distributed to the four corners of the world" and used illustrations of famous cities across the world. View the project.
Contact This email address is being protected from spambots. You need JavaScript enabled to view it. or call 01773 764288 to find out how our creative design team can help with your next marketing and design project.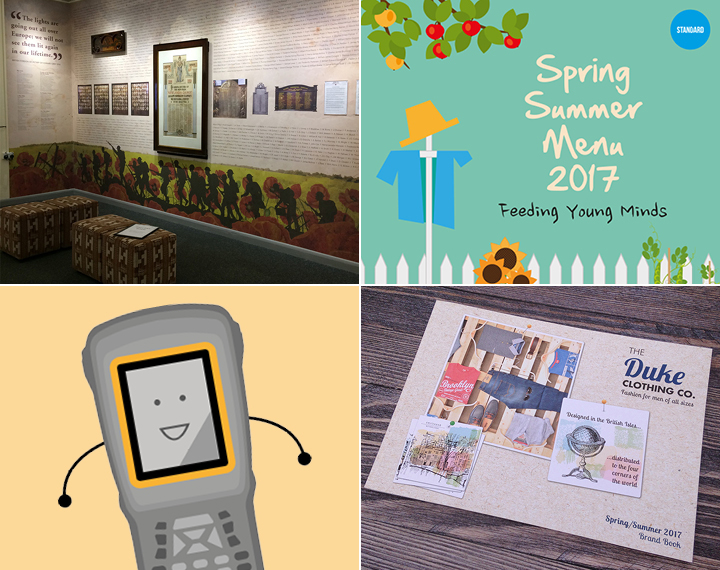 MORE NEWS