CARD AND LETTER ATTACHING FACILITY FROM PHASE
Recognising the importance of maximising results from printed matter, Phase offer a full card and letter attaching facility complete with inline variable data coding, should this be required. Camera verification is also available for those all important jobs where data control is critical.
So what is it?
Attaching? Hot Melt Gluing? Onsetting? Tipping? There is confusion about what it is called so read on...
At Phase we have been doing all of the above for years (we call it hot melt gluing) and pride ourselves on the capabilities of our staff and the hi-tech equipment and machinery in which we invest; ensuring that your product looks the part and performs as you need it to.
That being said the world of hot melt gluing can be a little confusing. The biggest issue is what is it called! Is it Hot Melt Gluing, Tipping On, Onsetting or Attaching! Well the truth is it can be called anything you like. We are basically able to stick two items together with a removable glue.
We are one of very few printers that can accurately attach paper cards, plastic cards or products onto cards, folded paper or booklets for mailing or marketing purposes.
The card can then be detached and saved for future reference and the backing sheet, folded leaflet or booklet can be discarded when finished with.
Uses
We have all had the standard credit card that is stuck on to the letter that we peel off. Well this is exactly that, only you can get a little more creative.
We can feed and glue on:
· Website discount cards
· Loyalty cards
· Telephone cards
· Membership cards
· Gift cards
· School meal voucher cards
· Business cards
· Internet cards
· Discount vouchers
The list is endless.
We can add extra features to help measure control you marketing activity including:
· Tracker codes
· Barcodes
· QR or Datamatrix codes
· Unique codes
All adding value to make sure you get the right return on your investment.
These are a perfect selling tool that can be included with other online orders, inserted into magazines or simply door dropped.
The technical bit
The system is designed to print a card and has a match and attach feature. This enables printing a code and matching via a sophisticated camera to ensure that the correct product is attached to the right item.
Our super flexible system is high-speed and has accurate placement. We use a quick-setting hot melt adhesive, specifically designed for the print industry that securely holds the item in place for their onward process. Be it distribution or a personalised mailing.
For further information to see how we can benefit your company call our sales team on 01773 764288, or email This email address is being protected from spambots. You need JavaScript enabled to view it. with #tipping as a reference.
Thanks for reading this article, we look forward to hearing from you Phase.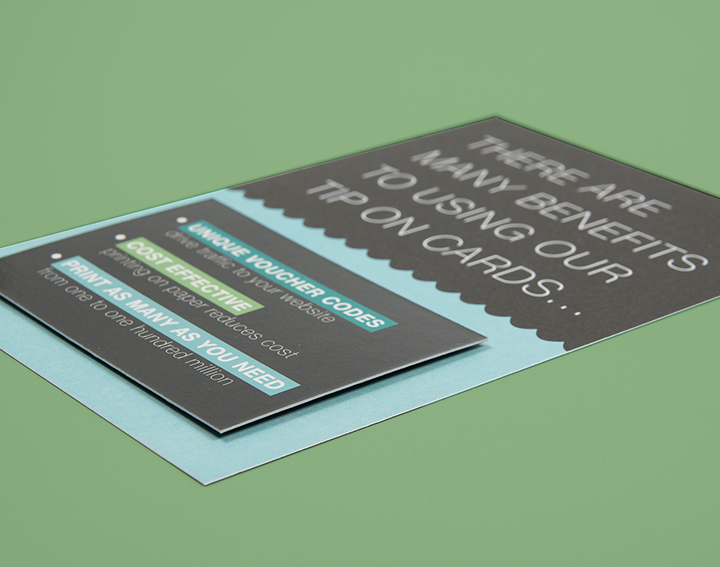 MORE NEWS